Unit 6 Archways Shopping Centre | Upper Staithe Road | Stalham | NR 12 9AQ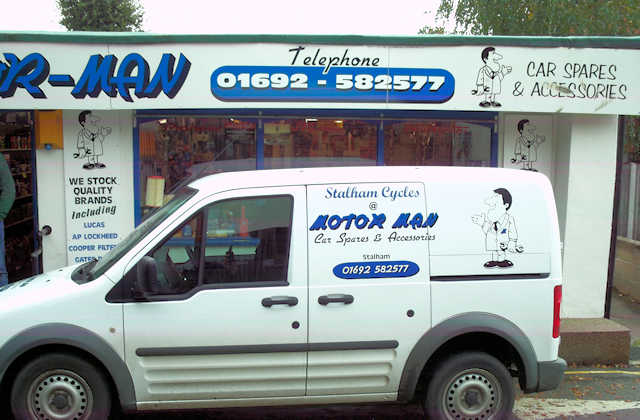 Supplying car spares & accessories since 1992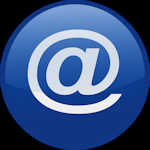 Contact Us
Welcome to Motor Man
We are an established stockist and distributor of premium branded automotive components and vehicle accessories with almost thirty years experience within the industry. Here you will find high quality products from some of the world's leading and most recognised manufacturers including Auto-Glym, Triple Wax, Ring, NGK, Lucas, Carplan and Isopon to name a few.

Run by Simon and Justin, our aim is to offer the very best range of products at competitive prices with a level of service second to none. We have a comprehensive and detailed knowledge of every product relating to car parts, accessories, repairs etc. If you need any guidance we are the people to ask!

Our Shop is packed full of products for all motoring needs including car care and maintenance, towing accessories, automotive tools, body repair and refinishing to mention a few. An Aladdins Cave for all things automotive so why not pay us a visit!

Motor Man Stalham is open from 8.30am to 5.30pm Monday to Saturday. We are also open on public holidays from 9.30am to 12.30pm.


Car Spares
We keep a large range of service parts in stock for the most common vehicles, including brake pads, shoes & rotors, starters, alternators, spark plugs, glow plugs, air & oil filters, cam & fan belts, and much more. If we don't have the part you need in stock, we can usually obtain it by the next working day, sometimes later the same day.

When calling or visiting us with an inquiry about a service part, please have full details of the vehicle to hand, including vehicle registration number, year of registration, make and precise model (including L, LS, GT, etc.), engine size, transmission type and options, whether fitted with air-conditioning, power-assisted steering, etc.

In some cases we may also need a serial number where a manufacturer changed a design part way through a model year.

We always keep a selection of batteries in stock, along with all the usual consumables needed for servicing and maintenance, such as engine oils, transmission & hydraulic fluids, antifreeze, greases, and so on.
Car Accessories & Tools
Are you looking for car care products locally? We stock wax, window & trim cleaners, and a whole host of other materials you need to keep your vehicle looking good.

To give your car a slightly new image, we also stock everything from dress-up trim to mats.

If you like to work on your own vehicle, we carry an extensive range of tools for the job, from screwdrivers to pliers, to socket sets, and more. We always have those small items that you need to complete some tasks, such as fasteners and electrical terminals. For your coachwork, we carry a range of paint/Hammerite and spray cans.

We keep a selection of the most popular Haynes manuals in stock, and can order any other for you upon request.

If you need to tow a trailer, we always have a range of jockey wheels, tow balls and other hardware available, as well as lights, reflectors, and the electrical connectors you need to keep your trailer legal.

For those occasional or emergency towing jobs, we have trailer lighting boards all wired and ready to go; just attach to the rear of the trailer and connect to your car.
Number Plates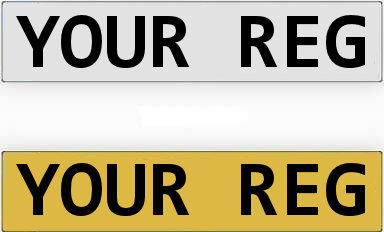 We can make standard, current-style U.K. number plates while you wait in both the long and squarer sizes, priced at £10 each. Motorcycle and Japanese import size plates are also available on the spot.

Other custom sizes or styles, such as black and silver plates for pre-1973 vehicles or the special shape plates used on some Rover models are available to special order.

Please note that in accordance with current legislation we are required to ask for proof of both your own identity and that of the vehicle for which the plates are intended. Your driver's license and the vehicle's V5C registration certificate will suffice, but other documents are acceptable if either is not available for some reason.
Acceptable proof of personal identity
Current driver's license (U.K. or foreign)
Current passport (U.K. or foreign)
Current national identity card issued by a foreign government
Bill issued by electricity, gas, or water supplier, a landline telephone bill, or a council tax bill (current within the last 6 months)
Bank or building society statement (current within the last 6 months)
Debit or credit card issued by a bank or building society (within expiry date)
Current police warrant card
Current armed forces identity card
Vehicle registration certificate, V5C, provided that you are using the same document as the required proof of vehicle registration number
Acceptable proof of vehicle registration
Vehicle registration certificate, V5C
New keeper supplement V5C/2 (section 10) of a V5C
Certificate of entitlement to a registration, V750
Cherished transfer retention document, V778
Vehicle license renewal form, V11
Temporary registration certificate, V379
Authorization certificate with official DVLA stamp, V948
Letter of authorization from a fleet operator quoting the document reference number from the V5C
Trade
Are you in the motor trade?
If so, then we may be able to offer you monthly account terms with trade prices, subject to approval.

We also operate a delivery service within the local area for trade customers, so you get the parts you need quickly and without having to take time out to go and pick them up.

Please contact us for further information.
Bicycles, Accessories & Repairs
Are you in the market for a new bicycle?
We stock many popular brands, and if we don't have the model you require, we can get it for you. That includes specialty cycles, such as fold-up types.

Our range includes children's bicycles, and related accessories such as training wheels.

We will always consider a part exchange on your existing bicycle, and we keep a selection of used cycles in stock.

We carry an extensive range of bicycle accessories, including saddles, gloves, bells, pumps, helmets, luggage racks, lights, and reflectors.

Again, if we don't have a specific accessory you require, we can order it for you.

We always have tyres and inner tubes available in stock in a variety of styles and sizes, and can fit them for you in our workshop which is attached to our store.

We also carry out all other bicycle repairs on the premises, so whether you need new brake blocks fitted, a chain replaced, or simply a saddle adjusted, we will be pleased to help. Many repairs can be carried out while you wait by our resident bicycle mechanic, Graham Wood, who has 12 years experience in the industry using knowledge handed down by two generations of bicycle shop owners. All types of bicycles serviced and repaired to a very high standard.

Free collection and delivery for repairs within 10 miles.
Bicycles available from these top brands:
Ordered in for next day delivery


Opening Times
Monday
Tuesday
Wednesday
Thursday
Friday
Saturday
Sunday
08:30 - 16:30
08:30 - 16:30
08:30 - 16:30
08:30 - 16:30
08:30 - 16:30
09:00 - 15:30
Closed

Bank Holidays 09:30 - 12:30

FREE parking outside
Motor Man
Unit 6 Archways Shopping Centre | Upper Staithe Road | Stalham | NR 12 9AQ

01692 582577
VAT No: 731 963 915
Car Parts | Car Spares | Car Accessories | Tools | Number Plates | Batteries | Valeting Products
New & Secondhand Bicycles | Bicycle Parts | Bicycle Accessories | Bicycle Repairs
Stalham | North Walsham | Wroxham | Martham | Acle | Horning | Coltishall | Norwich
Privacy Policy